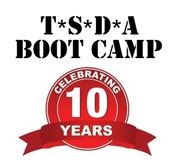 The 2017 TSDA Boot Camp was held Sept. 14-17, 2017 in Chapel Hill, NC. Click here to view photos of this year's event.
The TSDA Boot Camp is designed to provide incoming residents with an experiential foundation and hands-on practice in basic cardiothoracic operating skills so they are better prepared to enter the CT surgery operating arena. Resident and faculty participants will utilize simulators to enhance the learning experience and create real-world case and emergency scenarios. The TSDA Boot Camp was first held in 2008; the program has since provided programs and residents with numerous tangible and intangible benefits, including:
Exposure to a simulated OR environment for cardiac and general thoracic procedures facilitated by leaders in thoracic surgery education. This is particularly significant to residents whose programs do not offer this opportunity.
Extensive one-on-one interaction with faculty.
In just one weekend, resident attendees will meet their 20-hour simulation requirement mandated by the ABTS.
A report developed by the ABTS demonstrates that residents who attended Boot Camp are two times more likely to pass their Board exams than those who did not attend Boot Camp.
Past resident attendees continue to comment on the importance of Boot Camp as a networking resource for faculty and fellow residents to discuss educational and professional opportunities. TSDA continuously hears how residents continue to be in contact with other residents and faculty long after Boot Camp is over, and Boot Camp residents have returned as faculty members.
The intensive training and experiences gained at Boot Camp have resulted in extremely positive reviews by both resident attendees and faculty who volunteer their time for this important event. 2008-2017 resident survey results garnered the following data:
100% of Boot Camp attendees agree that Boot Camp was time well-spent.
100% of Boot Camp attendees would recommend Boot Camp to another resident.
An overall rating of 4.5 on a 5-point scale given to hands-on tasks in terms of helping participating residents gain skills and achieve confidence.
Of the Boot Camp survey respondents who their completed their CT surgery residency training program:

85% agreed that Boot Camp gave them an advantage throughout their training,
77% agreed that Boot Camp made them better surgeons.
This year's training sessions include:
Cardiopulmonary Bypass
Vessel Anastomosis
Bronchoscopy/Mediastinoscopy
Open Lobectomy
Aortic Valve Surgery
Mitral Valve Anatomy & Suturing
Aortic Root & Valve Anatomy
---
Course Materials
Boot Camp Schedule
Anatomy of the Heart, Dr. Gene Grossi
Practical Anatomy for General Thoracic Surgery – What You Don't Learn from the Books, Dr. Stephen Yang
Cardiac: Mitral Valve Anatomy & Suturing
Course Outline
Course Assessment
Mitral Valve Anatomy & Suturing
Movie: Resident resecting diseased anterior leaflet
Movie: Resident placing posterior mitral valve leaflet annuloplasty sutures
Movie: Resident placing posterior mitral leaflet replacement sutures
Cardiac: Aortic Root & Valve Anatomy
Aortic Valve and Root Anatomy: The Platform For All Aortic Root Surgery

Cardiac: Cardiopulmonary Bypass
Cardiopulmonary Bypass Skills
Cardiopulmonary Bypass Steps
Cardiopulmonary Bypass: A Primer (iTunes download)
Portfolio for Cardiac Surgery
Simple Pig Heart Model
Course Assessment: Cannulation
Course Assessment: All Scenarios
Cardiac: Vessel Anastomosis
Coronary and Vessel Anastomosis
Course Assessment
Cardiac: Introduction to Aortic Valve Surgery
Aortic Valve Pathology and Treatment
General Thoracic: Open Lobectomy
Open Lobectomy Syllabus
Lung Cancer Staging
Lymph Node Map
General Thoracic: Bronchoscopy/Mediastinoscopy
Bronchoscopy
Lung Separate Techniques
The Use of Fiberoptic Endoscopy in Anesthesia
One Lung Ventilation Module
---
Corporate Supporters
Thank you to TSDA's generous industry sponsors for their support of the 2017 Boot Camp through educational grants:
Medal of Honor
Medtronic
Gold Bars
Bard Davol
Silver Cluster
Abbott/St. Jude Medical, Inc.
BD
Edwards Lifesciences
Ethicon
Olympus Corporation of the Americas
Bronze Star
LivaNova
Exhibitors
Baxter
Edwards Lifesciences
Getinge
Medtronic
Scanlan International, Inc.
Product Support
TSDA thanks the following contributors for their generous donations of equipment and supplies:
Abbott/St. Jude Medical, Inc.
Bard Davol
BD
Boston Scientific
CAE Healthcare
The Chamberlain Group
CryoLife
Ethicon
Indiana University School of Medicine
Karl Storz Endoscopy
KindHeart, Inc.
LivaNova
MedaPhor
Medtronic
Olympus Corporation of the Americas
Scanlan International, Inc.
Teleflex
Terumo Cardiovascular Group
Transonic
University of North Carolina, Division of Cardiothoracic Surgery
W.L. Gore & Associates
---
2017 Boot Camp Participants
Program Directors
James I. Fann, MD, Stanford University
Richard H. Feins, MD, University of North Carolina
George L. Hicks, Jr., MD, University of Rochester
Nahush Mokadam, MD, University of Washington
Jon Nesbitt, MD, Vanderbilt University
Residency Program Participants
Albany Medical Center
Cedars-Sinai Medical Center
Duke University
East Carolina/Vidant Medical Center
Emory University
Indiana University
Loma Linda University
Medical University of South Carolina
Montefiore Medical Center
New York Presbyterian Weill Cornell/MSKCC
Northwestern University
Ohio State University
Oregon Health & Science University
Penn State University
Temple University
Tufts University
University of Alabama
University of Arizona
University of California, Davis
University of California, San Diego
University of California, San Francisco
University of Chicago
University of Cincinnati
University of Colorado
University of Florida
University of Iowa
University of Kansas
University of Kentucky
University of Louisville
University of Michigan
University of Minnesota
University of Mississippi
University of Nebraska
University of North Carolina
University of Rochester
University of Texas MD Anderson/University of Texas Medical School at Houston
University of Utah
University of Washington
University of Wisconsin
Washington University
Faculty
Mark Adams, RDCS, Massachusetts General Hospital
John Alexander, MD
Manjit Bains, MD, Memorial Sloan Kettering Cancer Center
Leora Balsam, MD, New York University
Lisa Brown, MD, University of California, Davis
Harold Burkhart, MD, University of Oklahoma
Pat Burney, MD
DuyKhanh Pham (Mimi) Ceppa, MD, Indiana University
Andrew Chang, MD, University of Michigan
David Cooke, MD, University of California, Davis
Mani Daneshmand, MD, Duke University
Alberto de Hoyos, MD, University of Texas Southwestern
Ben Daly, MD
Gene Grossi, MD, New York University
Benjamin Haithcock, MD, University of North Carolina
John Hammon, MD John Ikonomidis, University of North Carolina
Carolyn Jones, MD, University of Rochester
Brent Keeling, MD, Emory University
Ryan Macke, MD, Banner Health
Frank Manetta, MD, Hofstra-Northwell School of Medicine
Walter Merrill, MD, Vanderbilt University
Dan Miller, Emory University
Dilip Nath, MD, Children's National Medical Center
Bill Northrup, MD, CryoLife
Sunil Prasad, MD, University of Rochester
Rishi Reddy, University of Michigan
W. Steves Ring, MD
Sara Shumway, MD, University of Minnesota
Sande Starnes, MD, University of Cincinnati
Mithran Sukumar, MD, Oregon Health & Science University
Tom Varghese, MD, University of Utah
Jennifer Walker, MD, UMass Memorial Medical Center
Garrett Walsh, MD, MD Anderson Cancer Center
Darryl Weiman, MD, University of Tennessee
Stephen Yang, MD, Johns Hopkins Medical Institutions
James Yun, Yale University
Faculty Support
Ron Angona, CCP, University of Oklahoma
Harry "Mack" McCarthy, CCP, Virginia Commonwealth University
Paul S. Ramphal, DM, University of West Indies, Jamaica